Great Author Mad Libs
As I flatter myself that you have noticed, I've taken quite an extended break from An Excellent Dumb Discourse. In brief, this is because my best buddy (aside from The Spouse), The Cat, became very ill and finally died, after an extended illness. While he was alive, I was busy looking after him. Once he died, I frankly haven't had the heart to sit at the computer and write. I am home alone most of the day, and The Cat was my constant companion, just as he was all through my adolescence and early adulthood. Working on my blog, he would always sit on my lap and purr away, for quite literally many hours at a time. I'd always end up getting leg cramps in my attempt to both type and provide him with a level sleeping surface, but I didn't mind. When an animal loves you that much and is that demonstrably affectionate, you hardly notice the leg cramps. Anyway, I realize that I have to get back to writing again, so I've just thrown together something brief and hopefully amusing to start. Sort of like the stretches you're supposed to do before vigorous exercise. Before I close the blogging chapter on The Cat, however, I'd like to send a special Thank You to the Spouse, who was great dealing with me and The Cat during The Cat's illness, and even held him as he breathed his last. So long, Nero. You were the best.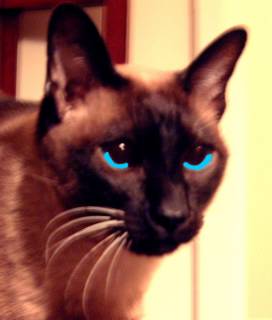 The Cat. Aka "Nero". 1990-2004. Requiescat in pace, Buddy.

Now I present my little amuse-tete for your consumption. But first, two caveats: I'm afraid my limited knowledge of html coding is on display, since what I've done requires a lot of formatting, and, while I've tried to make it format properly for all monitor resolutions, it ain't perfect. I will continue to try and get better. Second, my premise relies on the fact that the reader is familiar with the pen-and-paper party game "Mad-Libs". If you have heretofore managed to exist without knowledge of this parlor game delight, click here to learn about it. As for the amuse-tete, I've been revisitng a lot of the classics we were all forced at red-pen-point to read in High School, and I'm afraid I'm still left with the same opinion of an awful lot of these Great Dead Men. Geniuses; total assholes. Find one person who would like to be best friends with Ernest Hemmingway, and you've found some pathetic sap of a man pining for the good old misogynistic days. In terms of respect for the sexes, Shakespeare was many centuries ahead of Papa Hemmingway. I'm not a genius, but I'm not an asshole, either. So I've used this sliver of superiority to take a bit of a smack at Ernest. Here it is: Great Author Mad Libs Title: _______________ like _________ ___________ (Sexually Suggestive Noun) (Depressing Adjective/Noun Combination) by ____________ Hemingway (Paternal nickname) I led the girl to the _____________. She looked up at me. The light (highly symbolic type of waterway) ______________ through the _____________, casting shadows. (short, significant verb)(flora) "Oh _________," she said. "Will you always love me like this?" (Macho, WASP male name) I kissed her. The _____________ bowed in the breeze. I lifted her into (flora) the ___________________. "Why not?" I said. The girl sighed and cut (small water-going vessel) off her __________. "Why not?" she answered. We _______________ (body part)(irresolute verb, past tense) out towards the West. Hemingway - Genius. Me - Hack. But a nice hack.